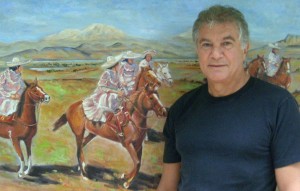 Andrés Gurumeta was born in Veracruz, México. His father, a talented Spanish architect, recognized Andrés' artistic talent at an early age and had him tutored by several of the most renowned art professors of Mexico City's famous San Carlos Institute.

While living in Sao Paulo, Brazil (1966-68), Andrés was exposed to new techniques and composition ideas. His graphic design studies at the Gestalt Centre in Veracruz, Mexico (1995-97), added a new dimension to his art. Nevertheless, the greatest influence in his artistic evolution has been extensive travel and experiences throughout his homeland, Mexico.
On his Canvases, the flavour of Mexico can be readily seen in the light-drenched landscapes, patios, portraits, balconies, and bright regional costumes. His still life pieces display rich, distinctive use of colour and texture. Working mainly with oil on canvas, the artist also employs selected materials to create mixed media pieces.
Andrés has exhibited his art extensively in solo, as well as in group exhibitions. His work is held in many private and corporate collections in Mexico, South America, the Caribbean, New Zealand, Germany, USA, and Canada. The artist has also created extensive commissioned masterpieces for various Club Intrawest Resort locations.